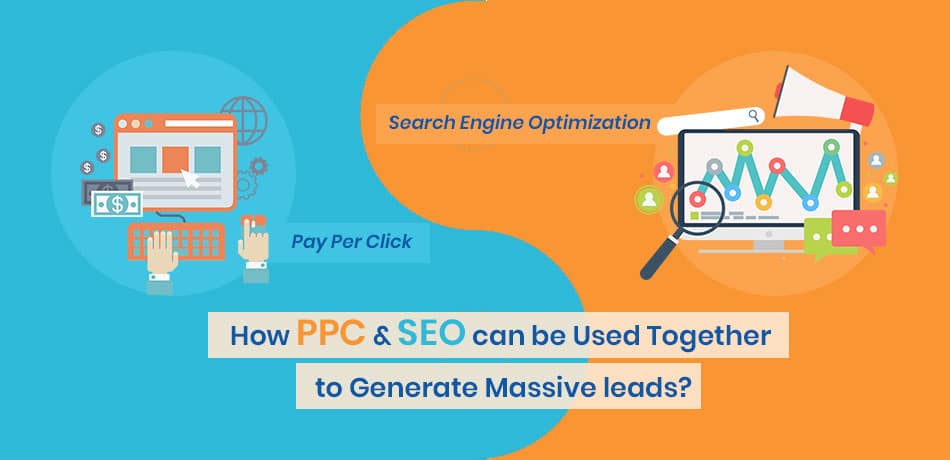 Read Time
3
min
PPC (pay-per-click) & SEO (search engine optimization) are two different streams of digital marketing that serve the common purpose of enhancing the visibility of your business' website link or URL on the search engines. Affordable internet services and the growing popularity of smartphones has made it much easier for people to explore their needs on Google, Bing, Yahoo, etc. Hence, there is no doubt that recognizing the opportunities and methods to place your brand over the competitive spots on search engines has become necessary. It helps to drive quality traffic to your website, build credibility, and gain market share.
Although, there are some clear differences between the SEO & PPC that need to be understood before we can proceed with how both of them can be used together to generate profitable leads for the long-term growth of your business. Let's begin.
PPC Vs. SEO
The highlighting difference between PPC & SEO is that the former will cost you money to generate traffic, whereas the latter can attract traffic for free of cost. Pay-per-click is simply a kind of advertising on search engines where a business is required to bid on certain keywords for which he wants his website to show up in the top results. Every time a user will click on your ad, you will have to pay a certain amount to the search engine for providing you the top space in the results. In SEO, long-term efforts are involved to rank a URL like developing relevant content, defining target keywords for each page, optimizing images with ALT tags, building backlinks, and much more. "The efforts and time involved in search engine optimization are comparatively much more than PPC but if you are looking for a great ROI and long-term establishment of your business website link, then search engine optimization is the right choice."
In this snippet (image 1.1), you can observe how organic results and ads appear: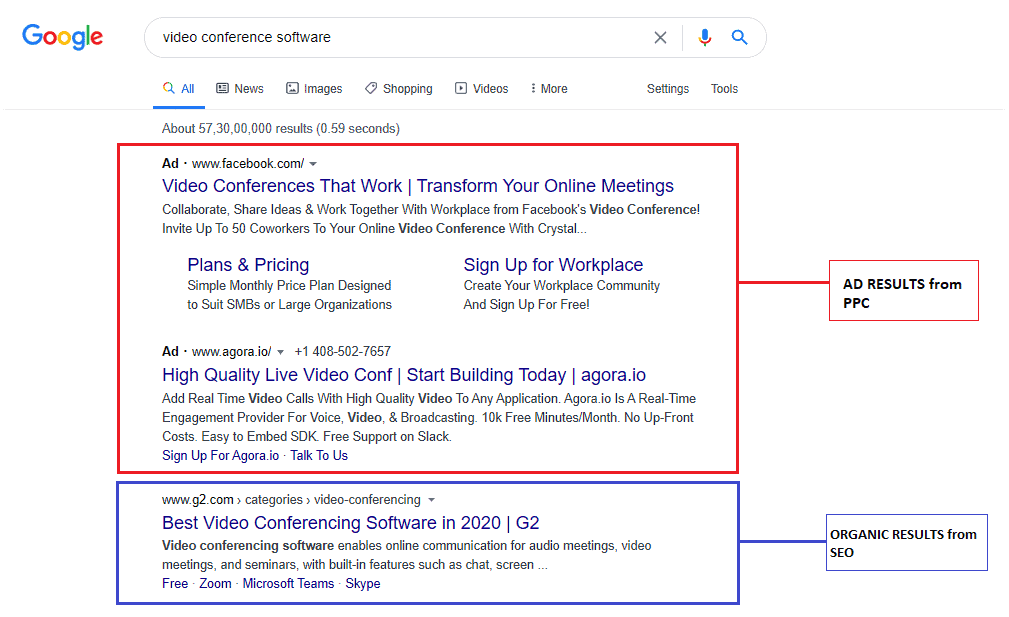 Image: 1.1
You can see in the image 1.1 that ads are placed in higher positions.
There is no thumb rule that states that search engine optimization is better than PPC or vice versa. Both serve different objectives and purposes to help your business achieve more popularity.
PPC & SEO Integration
We have already seen above that pay-per-click achieves higher spots comparatively, but to hold on to that spot, you will have to pay every time someone clicks on your link. Whereas it costs nothing to your business when someone clicks on your website from organic results but this competitive organic visibility consumes a lot of time and resources. So what can be done? The answer is – incorporating an optimum integration of both.
If you will start with content marketing and other on-page and off-page SEO tactics for specific keywords related to your business along with pushing pay-per-click ad campaigns for such keywords, then it will provide your website pages the much-needed juice to get itself ranked in a short period. PPC ad campaigns will generate the required engagement and traffic that will ultimately assist your SEO efforts to show productive results without consuming a lot of time.
When the organic traffic will start gaining momentum, then you can gradually cut off your efforts in pay-per-click and reduce its momentum. This will save your money and will promote your business to achieve a good ranking in the organic results. You will benefit more from search engine optimization because of the impressive ROI and credibility that it provides. Although, the need for ad-campaigns will not end as they can further help your business to promote the launch of new products, services, or offers.
There are a lot of other instances as well that reflects how this powerful duo can help a lot to improve the scope and coverage of your operations.