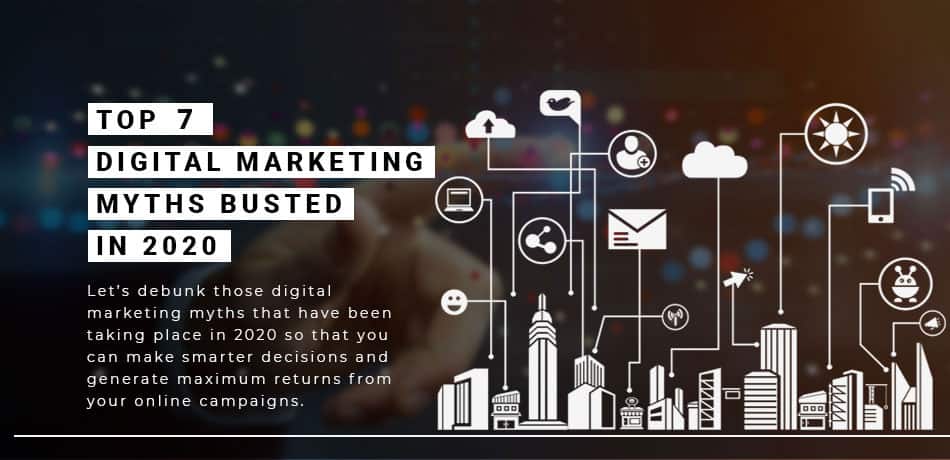 Read Time
5
min
Digital marketing is an effective solution to grow rapidly in a dynamic and changing business world. However, the internet has become a medium that allows easy broadcasting of myths and fake news. If online marketing is strangled in the web of myths then it will fail to serve its objective. To combat this, it is necessary to draw a foolproof plan by getting informed. For this purpose, we have busted 7 popular myths of 2020. Let's have a look.
MYTH #1: Quantity has upper hand in content marketing
We all are aware of the phrase – "content is king" and it is true in every sense only if it is providing quality material and real value to the users. Quality content is possible only if ample time has been allocated in its development process so that it becomes engaging. However, if it is speedily developed just for the sake of maintaining enhanced activity, then the quality and research efforts can be compromised. Result? Bad online marketing and degraded reputation. A Harvard Business Review also states the social cost and downsides that result from such kind of marketing.
It has also been observed that sometimes companies share duplicate content or republish the content from another website or blog in the expectation of more outcomes through more content. Google's Panda algorithm has been designed to label such automated or duplicate writing as inappropriate and does not rank it on the search engine result page (SERP). Google prefers the content that is unique, well-researched and provides relevant values and information.
VERDICT: It is not true that more content is directly related to more outcomes if quality and value are not recognizable.
MYTH #2: Building engagement on one social media network is enough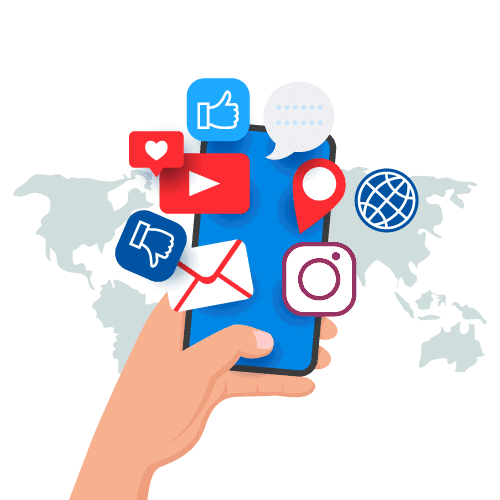 Many firms and startups are under the misconception that targeting only a specific social media network is enough. It is always preferred to build the presence and engagement on multiple platforms to leverage all possible business opportunities from social media. Every platform brings its advantage and aims at different sections of the population. Maintaining consistency across all the platforms can build a wide user base for your business because you never know which platform becomes more popular amongst your target users in the future. You need to be always ready for such opportunities.
VERDICT: It is not true that the focus should be on a single social media network only.
MYTH #3: SEO instantly provides the result
Some people believe that SEO can generate results overnight. It is not correct because SEO takes time to show the results. Ranking the URL organically requires a lot of on-page and off-page techniques. On-page includes publishing high-quality blogs, optimizing page titles, optimizing meta description and page content, formatting the headings, putting SEO images, implementing internal and external links, improving page loading speed, making the website mobile-friendly, optimizing images, etc.
Off-page includes backlinks building, guest posting, social media posting, do-follow/no-follow links building, PR submissions, brand mentions, creating visuals, listing the business, managing review signals, etc. Apart from all these long lists of SEO techniques, it has been calculated that Google makes use of at least 200 ranking signals. This comprehensive work can provide you with an estimated idea of how much time and resources are required to get the outcomes when you try to rank organically.
VERDICT: SEO takes time to provide results.
Are you looking for the professional SEO services? Our talented digital marketing experts can help.
MYTH #4: Email marketing is dying
With the rising popularity of social media platforms like Facebook, Instagram, Snapchat, Twitter, etc., and the explosion of competitive digital technologies, many people believe that it is a dead concept in 2020. Although statistics have something else to say here. It is expected that around 347 billion emails shall be sent daily in 2023. The usage graph for emails is in the upward direction. According to McKinsey, email marketing is a more efficient approach to acquire leads- approximately 40 times more efficient than Facebook and Twitter combined. The ROI is also impressive. As such, one thing is for sure that Email marketing is going to stay for a long period.
VERDICT: It is not true that email marketing is an outdated or dead concept.
MYTH #5: Google paid Ads always generate leads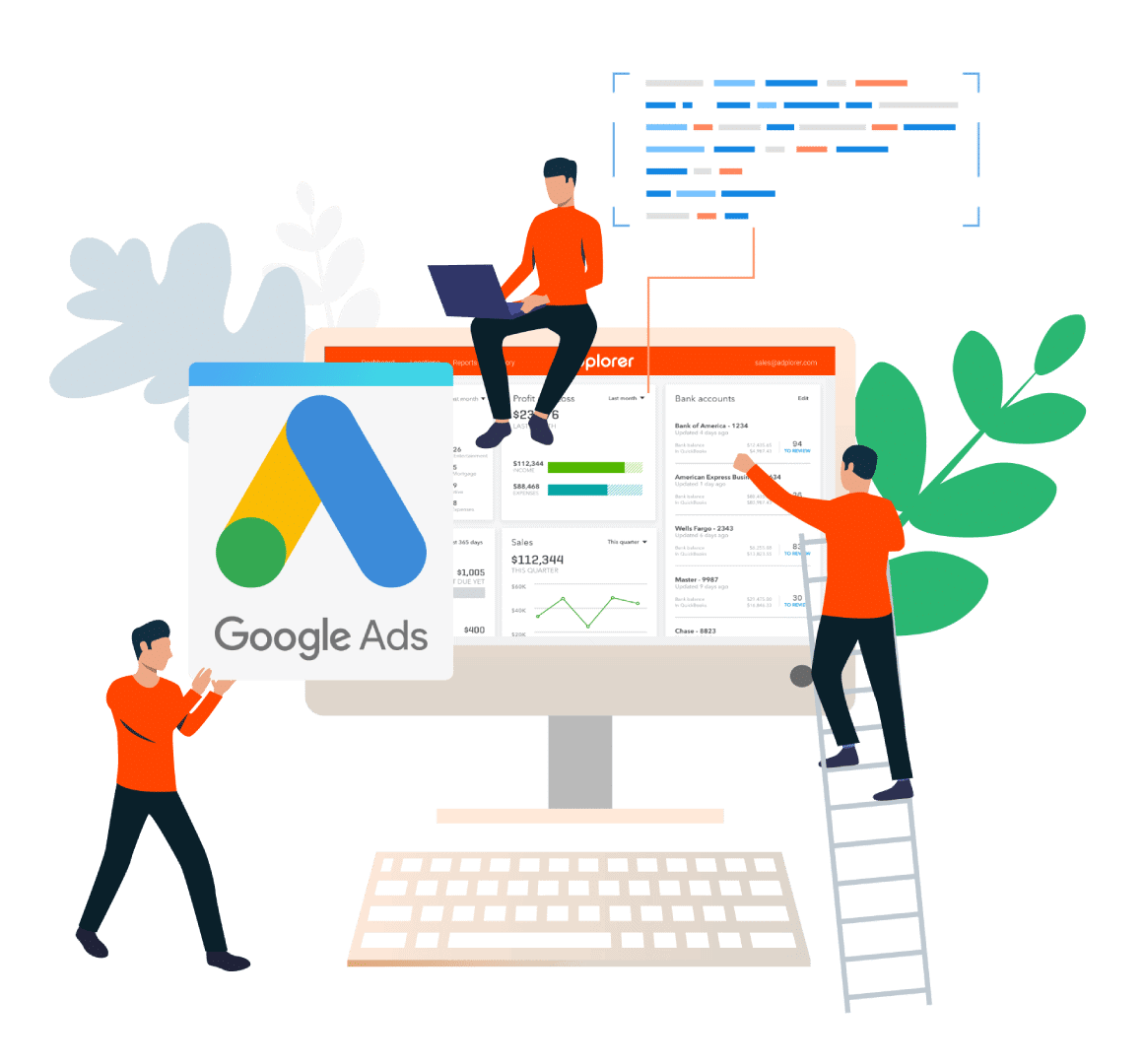 Google Ads can generate results only if it has been done the right way. The right way here means that the keywords that have been used in the ads match with the services or products that you have to offer. In simple words, the keywords used should be relevant to your website pages. Some other professional techniques like adding more extensions, cutting off duplicate keywords, implementing UTM tracking, keeping keyword groups close, etc. have to be enforced to get the desired leads. If the correct strategy is not followed, then ads will not render any outcome.
VERDICT: It is not true that Google Ads always generate leads.
MYTH #6: Search engines like Bing and Yahoo are irrelevant
This is again one of the most common misunderstandings in digital marketing that search engines like Bing and Yahoo are not relevant. Although Google is the most popular search engine, there are still some users who like to prefer others. To capture the attention of all, it is recommended to scale the online marketing efforts on bing and yahoo as well. Although you will need to distribute the time and resources for each search engine. Since Google is most popular, you can allocate 70% resources to it followed by 20% on Bing, and 10% on Yahoo. Once the allocation is done, then the proper strategy can help to gain leads.
VERDICT: It is not true that Bing and Yahoo do not matter.
MYTH #7: Traffic is more important for conversion
Many believe that attracting massive traffic can unlock the door for massive business opportunities. However, large traffic doesn't need to fill you up with a plethora of leads. Traffic and conversion are two different terms. The traffic is the number of visits that your website gets whereas conversion means the number of users who made the purchase or subscription from your website out of total visits. A lot of struggle is required to convert traffic visits into conversions. Quality information, inspiring UI/UX, offers and discounts, appealing texts, vibrant CTAs, website's performance, and lots of other factors go down into the process of translating traffic into conversions. Conversion gives you business, not traffic.
VERDICT: Indeed, traffic is not more important than conversion.
We made the fact-check of seven myths revolving around digital marketing and debunked them because they can mislead the individuals and organizations in 2020 from making smart digital marketing decisions.
---
ABOUT AUTHOR: