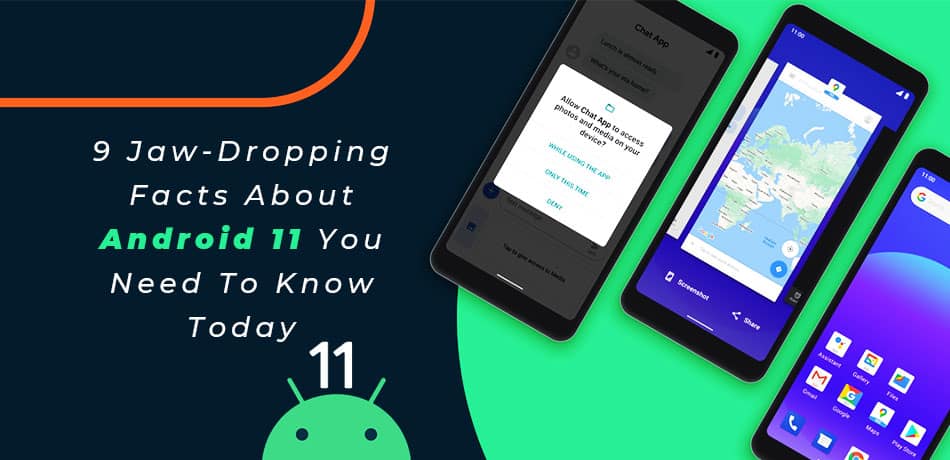 Read Time
4
min
Android 11, the official 2020 update of the Android operating system has been launched successfully. You can go straight to the point exactly what you need with the Android 11 optimized new version. Google Pixel devices already support the update. OnePlus, Realme, Xiaomi, and more will include it soon. It has tons of new features including a message bubble, smart home with a new menu, redesigned notifications, playback widget for media, improved profiles, screen recording, and many more.
The new version is mainly focused on the following themes :
To deliver the user better control over the smart device
For quick communication approach
To serve good data privacy
After the first boot up, you might not observe a big difference. That's why we are here to present you with the new features which make this latest update, the best yet version. We have listed the changes that you must know.
Chat Bubbles
Google developed Android 11 features mostly to ease up the user's conversation process, so all major changes are related to chat apps, notifications, and other conversation related setup. Chat bubbles appeared first in Android 10 but due to some reason it faded but this time it is available in a stabilized way. Facebook messenger users already know how chat bubbles actually work. The chat head appears on the top screen while you are operating on other apps. You can just tap the icon to see the whole chat and then again you can minimize the chat in the icon. Once done with the conversation, then you can remove the chat heads.
Screen Recorder
There are many apps available on the Google Play Store to record phone screen activity. But now, the screen recording is a native feature of Android 11. It's a bit late but still, the screen recording feature is exciting. You can activate the screen recording option through the quick setting tile. You just need to tap on the "Screen Record" feature and have to choose whether you want to record screen only or audio too.
Media Controls
The media player used to appear at the top of the screen in Android 10, but now the section is reserved for communication purposes. The media controller will not appear in the notification bar because the media player widget has been moved to a quick setting section and now it will be shown as a tool in the drop-down menu bar. When you will swipe down your menu, the minimized media player widget with basic controls will appear there. With a simple tap on the playback system, you can push off the audio or video playing in the system. When you are not playing, the media will automatically vanish.
Smart Controller
People are integrating their lives with technology. To respond to this trend, Google defined a new section to allow us to control your smart devices without opening the corresponding app. To check the new tool just hold on the power button. Usual power options will appear at the top of the screen and below that, you can see many more options to control various other smart devices. In this field, you can add control for any 6 devices you want on priority. For example- to check security cameras, to unlock the door, to turn light on or off, and much more. A shortcut for a mobile payment system is also provided so that you can execute transactions quickly.
Privacy Permissions
When you look back to Android 10, the users were provided with improved handling options to control applications and now Android 11 is launched with new wonderful additions to it. To access any sensitive feature of your phone like a camera, location, or microphone you need to have one-time permission. With permission, you can use the app and when you will leave the app it will be locked again. If you want to use the app again you will need to have an access grant.
Enterprise users usually handle different phones for personal and professional use. In Android 11 you can maintain personal and work profiles separately in a single android device and then switch confidently to any profile when required without interfering with another.
5G Compatibility
Folks have started to connect with the next wireless data connection. For smooth processing, Android 11 added a  "Dynamic Meterdness API". It allows the smartphone to take the whole advantage of 5G. The API detects and shows whether you are connected to an unlimited 5G signal so that you can access the highest quality graphics or videos. The API assures that you can take full advantage of the best possible speed available.
Dark Theme Schedule
Now, the native dark mode in Android 11 can be scheduled in two different options. You can schedule and automate your phone dark mode to turn on or off according to sunset and sunrise. Set the timing manually for activating and deactivating the mode. Long press on the Dark theme icon in the quick settings you will get to see options – "None", " Turn on at the custom time" and " Turns on from sunset to sunrise" select option as per your need.
Android Wireless Auto
Android auto wireless connection is now available in Android 11. Without any wire plugin, you can simply connect the device to your vehicle to keep your focus only on driving. Through the car dashboard, you can operate maps, calls, messages, and media players. The Android auto is modified with a better user interface that supports Alexa.
Voice Control
One pretty good feature added to the new version allows you to control your device with your voice via Google's voice access. When you activate the voice access you can simply operate your phone by speaking. So whether you want to compose a message, launch an app, view photo, tweet or anything else just add numbers to all control elements. For instance, assign "1" for delete, then just say the number, and the action will be executed automatically.
Conclusion
Android 11 has something for each one of us. It has offered a great number of improvements over the last Android 10 version. There is no such big change but many small tweaks to make things better. The new version has improvements that you may not use but it would surely enhance your overall experience. It's important for developers to understand these tweaks to incorporate user interface with these new features while working on the android mobile app development.
Keep visiting our website for more such exciting blogs and stay updated with the latest technology trends.